Practice Multichannel Ecommerce Management with Sellershub.io
What is eCommerce?
E-commerce is the activity of buying and selling goods or services online. It has emerged only recently, but there is already an established concept of eCommerce and its benefits for conducting business are internationally acknowledged. At the moment, it works as a form of retail that can provide various capabilities to small, middle, and large scale businesses, individuals and freelancers. It includes but is not limited to:
Online sales of physical goods and digital products

Online sales of intangible digital products

Intellectual property

Digital services

Real-time auctions

Tickets' sales

Utility bills payments

E-banking

Online marketplaces
Where does the United Kingdom stand in eCommerce?
The United Kingdom is one of the leading countries in the western world. It's an active member of the European Union, but it chose to remain outside of the Economic and Monetary Union and therefore keep its pounds and pennies. Here's what you need to know about eCommerce in the United Kingdom:
| | |
| --- | --- |
| COUNTRY | THE UNITED KINGDOM |
| Population | 67.08 million people |
| % internet users | 94.8% |
| Online sales | 639 Billion GBP |
| Online stores worth mentioning: | Amazon, Tesco, Argos, Bay, ETSY, OnBuy. |
Market expansion in the United Kingdom is expected to continue over the next few years, as indicated by the Statista Digital Market Outlook. It has been predicted that the compound annual growth rate (CAGR 20-24) for the next four years will be 6%. Compared to the year-over-year growth of 27%, this decrease suggests a moderately flooded market. Another indicator of market saturation is the online penetration of 82% in the United Kingdom; in other words, 82% of the UK population have bought at least one product online in 2020.
The United Kingdom Leading multichannel retailers:
The United Kingdom has the most dynamic retail e-commerce market in Europe. Over the past five years, e-commerce share in the country's retail sector saw an increase from 13.5 percent to nearly 18 percent, with projected growth rates for 2019 confirming the continuity of the upward trend. As such, the UK sits at the forefront of e-commerce retail and innovative retail solutions and technologies such as multichannel and omnichannel retailing, the basic tenets of which many UK companies are already employing at a large scale.
Online sales in the United Kingdom from 2016 to 2021:-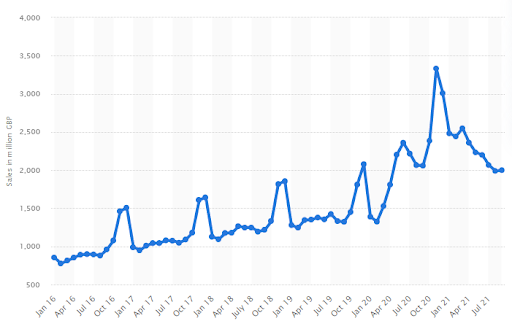 Categories ranked by individuals who purchased online in 2020:-
In the UK, 55 percent of the population shop online, and the consumers' favorite items to buy online were clothes and sports goods. According to the 2020 results of an annual interview conducted by the Office for National Statistics, 32 percent of individuals in the United Kingdom (UK) purchased deliveries from restaurants, fast-food chains, or catering services. Services and products least popular with online consumers were bicycles, mopeds, cars, or other spare parts, which only less than 10 percent of households choose to purchase online.
Leading Multichannel eCommerce Management software:-
Sellershub has changed the world of Multi-Channel Selling forever in so many ways. What Makes it different? Their Unique multi-channel automation software, outstanding expertise, and cloud-based technology make your Online Sales fully unified. Speck solutions have ruled Online Sellers businesses for a long time in that many have come to accept that stitching together software, working on complicated processes, and viewing inconsistent data is just happening all the time. 
Sellershub' s mission is to close these notions and provide Online sellers something they've never had or experienced before: a Centralized Inventory & Order Management platform with a single source of truth for all your backend sales and operations through a simple multichannel selling software We are proud to be serving Multi-Channel Industry in the most Online sellers and brands that share our vision of unifying Multi-Channel Selling forever.
"One big benefit that you can get from Sellershub is accelerated product time to market, a single platform that can support multiple Online Marketplaces, helping Online Sellers remain competitive by providing the right features for Multi-Channel Selling"
Advantages of Online Selling:-
Easy market access –

in many ways the access to the market for entrepreneurs has never been easier. Sellershub enables Online marketplaces such as eBay and Amazon to set up a simple online shop and sell products within no time. 

Reduced overheads –

selling online can remove the need for expensive retail premises and customer-facing staff, allowing you to invest in better marketing and customer experience on your e-commerce platform through Sellershub.

Potential for rapid growth –

selling on the internet means traditional constraints to retail growth – eg finding and paying for larger – are not major factors. With a good digital marketing strategy and Sellershub order fulfillment systems, you can respond and boost growing sales. 

Widen your market/export –

one major advantage over premises-based retailers is the ability to expand your market beyond local customers very quickly. You may discover a strong demand for your products in other countries which you can respond to by targeted marketing, offering your website in a different language, or perhaps partnering with an overseas company. 

Customer intelligence –

ability to use online marketing tools to target new customers and website analysis tools to gain insight into your customers' needs. 
Disadvantages of Online Sellers:-
Marketplace/Website costs –

planning, designing, creating, securing, and maintaining a professional e-commerce solution isn't cheap, especially if you expect large and growing sales volumes.

Infrastructure costs –

even if you aren't paying the cost of customer-facing premises, you'll need to think about the costs of physical space for order fulfillment, warehousing goods, dealing with returns, and staffing for these tasks.

Security and fraud –

the growth of the online retail market has attracted the attention of sophisticated criminal elements. The reputation of your business could be fatally damaged if you don't invest in the latest security systems to protect your website and transaction processes. 

Legal issues –

getting to grips with e-commerce and the law can be a challenge and you'll need to be aware of, and plan to cope with, the additional customer rights which are attached to online sales. 

Advertising costs –

while online marketing can be a very efficient way of getting the right customers to your products, it demands a generous budget. This is especially true if you are competing in a crowded sector or for popular keywords. 

Customer trust –

it can be difficult to establish a trusted brand name, especially without a physical business with a track record and face-to-face interaction between customers and sales staff. You need to consider the costs of setting up a good customer service system as part of your online offering.
Not having the right software:-
Investing in the Advanced  Multichannel Management application helps you to save time,

increase sales

and improve

customer service

.

Managing your inventory manually can take a lot of time-consuming tasks off your plate, but a dedicated eCommerce Management application like Sellershub is where you'll see the difference.

When choosing software for your eCommerce management like Sellershub, make sure you choose ones that integrate all your marketplaces, websites, shipping carriers and can work smoothly together. This will allow you to manage the peak holiday season without too much stress.